04 March 2013

http://host.madison.com/news/local/environment/several-state-frac-mines-breaking-the-rules/article_c43beb84-39ac-5f4f-96a5-a5a3ced21752.html



Several state frac mines breaking the rules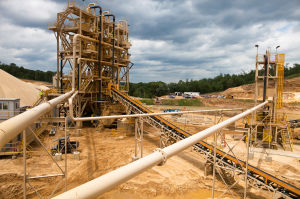 Nearly a fifth of Wisconsin's 70 active frac sand mines and processing plants were cited for environmental violations last year, as the industry continued to expand.
Violations included air pollution, construction without permits, and an accident at the Preferred Sands mine in Trempealeau County where a mudslide during a heavy rainstorm damaged a neighboring property.
In addition, the state Department of Natural Resources wrote letters of noncompliance — warnings to fix a problem before it becomes serious enough to merit a notice of violation — at numerous facilities.
"Some of these companies should have known better," said Marty Sellers, a DNR air management engineer. "They seem to put construction and production ahead of regulations."
Usually, Sellers said, the DNR expects 90 percent of companies in a regulated industry to comply with rules on their own. But in his visits to a dozen frac sand facilities, Sellers encountered the opposite pattern, and sent letters of noncompliance to 80 percent to 90 percent of the sites.
DNR compliance officials acknowledged they have been stretched thin monitoring the sand industry, which has grown from a handful of sites five years ago to more than 100.
Wisconsin is the nation's leading supplier of frac sand. The companies mine, sort and wash sand for use in hydraulic fracturing of shale to extract natural gas in other states.
Gov. Scott Walker has proposed two new DNR positions in his budget to monitor the sand industry, by shifting $223,000 from other parts of the budget. The Wisconsin Industrial Sand Association, an industry trade group representing five large companies, applauded the move in a press release.
Citizens alert
Dust generated the most complaints about frac sand operations in 2012, but most violations involved stormwater permits.
DNR environmental enforcement specialist Deb Dix said some of the violations resulted from residents' complaints. Perhaps because sand mines have provoked so much controversy, citizens have been alert to problems, Dix said.
In response to complaints in the Frac Sand Sentinel, an e-newsletter for anti-mining activists, that the DNR was slow in responding to a runoff concern, a DNR stormwater specialist wrote in, explaining that the extra vigilance was helpful.
"I do greatly appreciate any and all photos and reports," Ruth King wrote. "It is precisely because I am only a half-time employee and cannot be everywhere at all times that we really need concerned citizens to be our eyes and ears."
In neighboring Minnesota, where Democrats control the legislature and governor's office, a Senate committee on Tuesday approved a bill calling for a statewide moratorium on new mine development and a study of the industry's environmental impacts.
But in Wisconsin, where Republicans are in control, the DNR decided last year that existing non-metallic mining regulations were sufficient to handle the frac sand boom.
The two DNR positions proposed would most likely be focused on mines' compliance with air quality regulations, said Tom Woletz, the DNR's point person for frac sand.
Air regulator Sellers said he inspects large operations that dry sand, a process that poses the greatest risk of dust pollution, but only on a rotating basis and when mines are testing emissions for permitting purposes. The air quality compliance staff doesn't inspect small mines regularly unless there's a complaint.
Runoff incidents
The DNR referred two May 2012 frac sand mine violations that caused significant environmental damage to the Wisconsin Department of Justice. The agency said it is reviewing the cases.
At the Preferred Sands mine in Trempealeau County, a mudslide that flooded a neighbor's property during a heavy storm violated its stormwater permit. The Minnesota-based mining company also had multiple violations of its air quality permit.
Todd Murchison, Preferred Sands regional manager, said the company learned a lot from that accident, changed its policies and was cooperating with the DNR.
At the Burnett County mine owned by Minnesota-based Interstate Energy Partners, a leak in a holding pond let silt-laden water leak into the St. Croix River for a few days before it was noticed by a hiker.
"That could have been devastating to wetlands or the St. Croix if left uncorrected," Dix said. "The regulations are there to protect the environment — from catastrophic events and ongoing damage."
Nine companies that received violations faced no fines, Dix said. Their violations were largely paperwork problems or other easily corrected problems.
Few air pollution violations so far
Dust pollution — a potential health concern as well as a nuisance — attracted the most attention from citizens, but few sand mines received serious air quality violations.
Companies monitor dust levels to protect workers. They spray water on exposed soil and use specialized equipment like dust collectors and covered conveyors to prevent pollution, Woletz said.
Trouble occurs if that equipment fails.
That's what happened at the Pattison Sand transport facility in Prairie du Chien. Sellers received many calls about dust coming from the portable system used to load sand from trucks to train cars.
Between his busy schedule and the fact that the portable facility comes and goes, it was almost a year before Sellers observed the operation in action.
The callers were correct: He saw dust escaping from the area where the truck unloaded sand.
He wrote a letter of noncompliance to Pattison Sand, an Iowa-based company, warning it to fix the problem and improve its protocols or face fines.
The DNR's Dix said the agency expects to see fewer violations in the future.
"Sometimes, it's just the growing pains of an industry," Dix said. "Usually, once we catch them, they get it corrected, and we're done."
---
The nonprofit Wisconsin Center for Investigative Journalism collaborates with Wisconsin Public Radio, Wisconsin Public Television, other news media and the UW-Madison School of Journalism and Mass Communication.
This information is provided courtesy of the Madison Action for Mining Alternatives group which is an ally of the Wisconsin Grassroots Network.
Do you like this post?
---